TOPIC 1a PREVIEW
LAWS YOU SHOULD KNOW…
Cell Phones & Texting
Texting, accessing the internet and hand-held cell phone use while driving are illegal in Nevada as of January 1st, 2012.
The fines are :
1-  $50 for the first offense in seven years,
2-  $100 for the second plus 4 demerit points
3 – $250 for the third and subsequent offenses plus 4 demerit points.
Fines are subject to doubling if the offense occurs in a work zone. Courts may add more administrative fees.
The first offense is not treated as a moving violation.
A second or subsequent offense carries 4 demerit points.
---
Exceptions for cell phone usage
You can talk using a hands-free headset and, while making voice calls, touch the phone to "activate, deactivate or start a feature or function on the device.
Law enforcement officers, firefighters or emergency medical staff acting within the scope of their employment.
person reporting a medical emergency, a safety hazard or criminal activity.
Drivers using a voice-operated navigation system affixed to the vehicle or those riding in autonomous vehicles.
Drivers using citizen band or other two-way radios that require a license and have a separate, hand-held microphone.
Utility workers responding to an outage or emergency and using devices provided by the company.
Amateur radio operators providing communications services during an emergency or disaster.
---
Following a fender bender or a light crash
According to the U.S. Census Bureau, there are more than 10 million car collisions every single year. Yet many people are unsure of what to do once they get into one of these minor car accidents. (more details on topic 8a).

Move-Over Laws
If there is damage only to a vehicle or other property (no injuries), your vehicle is obstructing traffic
If the vehicle can be moved safely, move the vehicle to a location that does not obstruct traffic and then return to the scene.
All crashes which involve injuries or damages of $750 or more must be reported to the DMV.
If a police officer does not investigate the incident, all the involved parties must file reports on DMV Form SR-1 within 10 days.
---
Emergency vehicles
In the absence of direction by a peace officer, the driver of a vehicle approaching a stopped emergency vehicle must:
Decrease the vehicle speed to a speed that is reasonable and proper and less than the posted speed limit.
Proceed with caution.
Be ready to stop; and
If possible, drive in a lane that is not next to the one in which the emergency vehicle is stopped unless the roadway, traffic, weather or other conditions make doing so unsafe or impossible.


---

Encounter with an emergency vehicle (code 3)




Upon the immediate approach of an authorized emergency vehicle which is sounding a siren and which has at least one lighted lamp  the surrounding traffic shall, except as otherwise directed by a traffic officer, do the following:
.
1 ) The driver of every other vehicle shall yield the right-of-way and shall immediately drive to the right-hand edge or curb of the road, clear of any intersection, and thereupon shall stop and stay stopped until the authorized emergency vehicle has passed.
.
2) A person driving a vehicle in an exclusive or preferential use lane shall exit that lane immediately upon determining that the exit can be accomplished with reasonable safety.
.
Use your common sense.
If you're driving south on Interstate 95, and you see a CDF fire equipment rolling northbound with their lights and siren on, you may slow down but the emergency vehicle will not cross the safety barrier separating the 2 opposite lanes, therefore you do not have to pull over and stop as it might create havoc on a freeway..
---
Bicycles
Motorists passing a bicycle must move into an adjacent lane to the left, if possible. If not, the motorist must pass with at least three feet of space between the vehicle and the bicycle.
Motorists may be charged with reckless driving if they are at-fault in any collision with a bicyclist or a pedestrian. Penalties include a driver license suspension.
---
Seat Belts
Front and rear seat occupants of almost all passenger vehicles to wear safety belts or ride in an approved child restraint system.
Vehicles 1968 and newer must be equipped with lap belts. Vehicles 1970 and newer must be equipped with lap belts and shoulder belts for the front seats.
As a driver, you must ask your passengers to fasten their seat belt prior starting the engine.
Children Safety Seats:
Children under age 6 and who weigh less than 60 pounds must be in an approved child restraint system . Failure to restrain children under age 6 and weighing less than 60 pounds may result in fines, community service and or the suspension of your driver's license.
Never leave a child age 7 or younger unattended in a vehicle if the conditions present a significant risk to the health and safety of that child unless the child is being supervised by, and within sight of, a person at least 12 years old
---
Pickup and flatbed trucks
Passengers under 18 may not ride in the back of a pickup or flatbed truck.
This does not apply, however, to:
Farming and ranching activity,
Parades
Camper shells
Slide-in campers.
---
Pets on Board
It is illegal to leave a dog or cat unattended in a vehicle during periods of extreme heat or cold. Law enforcement, firefighters and other officials may use reasonable force to rescue the animal.
---
Teen Driving Restrictions
You must be 16 years old to apply for a full license. You must also have:
A valid instruction permit for at least six months before applying
No at-fault crashes in the six months before applying
No moving violation convictions in the six months before applying
No alcohol or drug convictions of any kind in the six months before applying
You must also have a recorded proof of 50 hours of  driving / training with an adult supervisor and 30 hours of Driver's EDucation.
---
Passengers
It is recognized that young passengers may be a disturbance to young drivers or an incentive to "show-off" their new skills, especially for young male drivers.
Wisdom comes with  training and experience.
---
Curfew
Drivers under 18 may not drive between the hours of 10 p.m. and 5 a.m. unless they are traveling to or from a scheduled event such as work or a school event.
This curfew remains in effect until age 18.
---
Speeding
Nevada has a Basic Rule for driving at reasonable and proper speeds. This means that in addition to any posted speed limits, you must consider the amount and type of traffic, weather, road conditions and other factors.
The proper speed may be considerably less than the posted limit.
---
Right Turns on Red Lights
You are allowed to turn right on a red light after coming to a full stop, unless otherwise posted.
NO TURN ON RED means STOP on RED even if you are turning and there is nobody on the crossing road.
If allowed, you must be in the extreme right-hand lane and yield to pedestrians and all traffic moving through the intersection. Be ready to stop even for a dog.
---
U-Turns
U-turns are generally allowed if they can be completed safely.
In business areas, you must be at an intersection or on a divided highway where an appropriate opening exists.
U-turns are not allowed where prohibited by a traffic sign or signal, or if there is less than 500 feet visibility in both directions.
---
School Buses
Drivers are required to stop for school buses when students are boarding and departing and when bus is displaying its flashing red lights.
YOU DO NOT HAVE TO STOP when moving in the opposite direction on divided highways with a median or other physical barrier.
On all other roads, traffic in both directions must stop.
---
Driving Under the Influence (DUI)
Failure to submit to a breath, blood or urine test as directed by a police officer results in a driver's license revocation of at least one year. A blood sample can be drawn involuntarily if the officer obtains a warrant or court order.
Legal Limits  .08 percent blood alcohol level or any detectable amount of a controlled substance. (.02 if under 21, .04 in commercial driving)
Driver License revoked for at least 90 days upon arrest.
Vehicle may be impounded.
These are administrative penalties which are taken immediately. Courts impose additional criminal penalties upon conviction.
---
Traffic Stops & Racial Profiling
Nevada law requires you pull to the right and stop when signaled to do so by a police officer. There is apprehension for all involved during a routine stop. The person being pulled over is fearful of getting a ticket or because you're not sure why you were stopped; and the officer is fearful for their own personal safety with the unknowns for any given situation.
"Racial profiling" means reliance by a peace officer upon the race, ethnicity or national origin of a person as a reason in initiating action when the race, ethnicity or national origin of the person is not part of an identifying description of a specific suspect for a specific crime.
Drivers who are stopped by law enforcement officers are recommended to follow all legal instructions they receive from the officer.
To assist the officer in determining that you are not a wanted fugitive, please keep your hands in sight at all times. Upon initial contact, keep your hands on the steering wheel unless instructed by the officer to do otherwise. When the officer asks for papers, let the officer know what you are intending to do, such as, "my registration is in the glove box." This allows the officer to know your intention ahead of time. If for some reason there is a firearm in the vehicle, advise the officer upon initial contact. The police don't like surprises any more than you do.
If you are stopped at night, turn on the vehicle's dome light to assist in seeing what is present in the car. Be prepared for bright lights. Police use their lights so they can see items harmful to them.
Please stay in the car unless directed by the officer to exit the car. Your cooperation will be appreciated and aid in the safety of all parties-including your own
.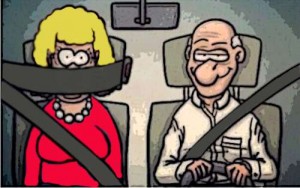 Buckle up, it's the Law !
PARALLEL PARKING BY LASVEGASNVDRIVINGSCHOOL.COM
---
QUIZ PREVIEW
---
 [ms_button style="3d" link="https:www.lasvegasnvdriversed.com" size="medium" shape="rounded" shadow="no" block="no" target="_self" gradient="no" color="#B7ECAD" text_color="#0F1015″ icon="fa-graduation-cap" icon_animation_type="swing" border_width="1″ class="" id=""]Home[/ms_button]